MECHANICAL BULL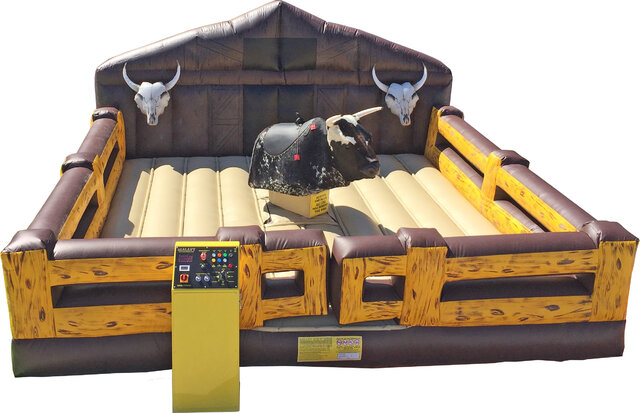 Please call to reserve this item.

MECHANICAL BULL RENTAL MARYLAND
Are you looking forward to giving your party guests, regardless of age, an experience they will not quickly forget? Our mechanical bull rental in Maryland is a classic option that you can never go wrong with whether you are hosting a birthday party, carnival party, corporate event, school festival, family get-together, fundraiser, or any other event.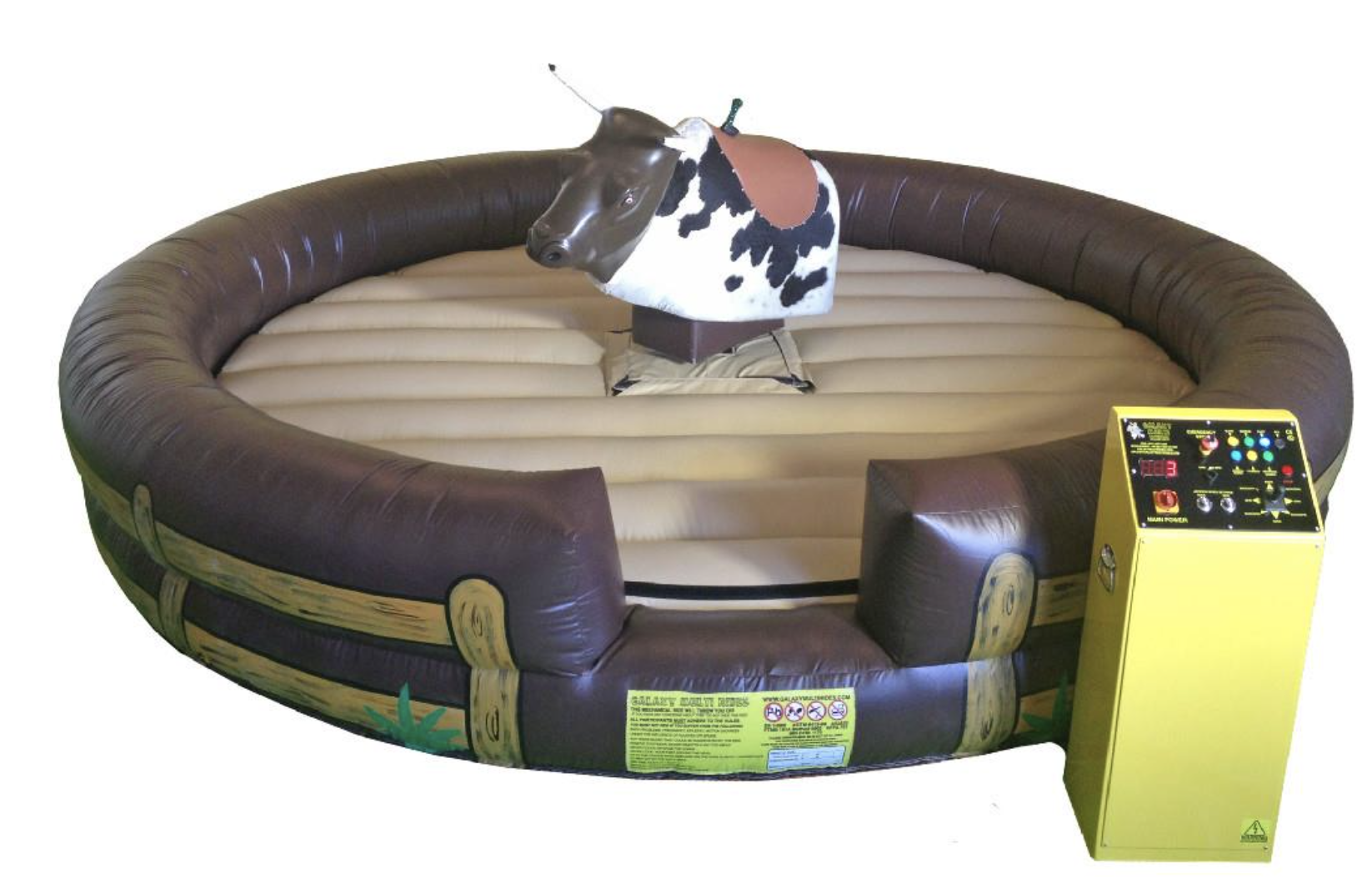 The Best Mechanical Bull Rental in Maryland
A party is only worthwhile if your guests have the time of their life. Luckily, as the party host in Maryland, you do not have to try too hard to make this possible when we have you covered at Fiesta Time & Amusements LLC.
Our mechanical bull is a must-have for all those occasions when you would love your family, friends, and guests to let their hair down and enjoy the moment. With our mechanical bull rental, everyone will have more than just a ride but a thrilling experience that will make those hours fly by. The laughter and fun as your guests take turns to get a feel of the mechanical bull will be a major highlight of your event.
Why Choose Our Mechanical Bull Rental in Maryland
At Fiesta Time & Amusements LLC, we highly value our clients as you are part of our Maryland family. To ensure you never get to settle for less when you rent our mechanical bull, we guarantee the following:
Outstanding Safety Features
We have invested in a state-of-the-art mechanical bull equipped with outstanding safety features, so you and your guests can have fun without any worries. These safety features include a sofolex soft foam safety head, a unique automatic stop sensor, and controlled bucking action that can is pre-set to six automatic competition levels.
Broad Weight Capacity
Our mechanical bull is suitable for all riders, from as young as 10 to those as old as over 50. The recommended minimum weight is 40 lbs, and the maximum weight is 250 lbs to avoid the risks of injuries.
Unbeatable Prices
We offer our mechanical bull at affordable rates, with our starting price including the bull and an attendant for the first three (3) hours. You will then be charged for every additional hour, so you can have the mechanical bull for as long as you want.
Standby Generators
Operating our mechanical bull requires two power outlets on separate circuits. However, since we know not all outdoor areas can have power outlets nearby, we provide generators to ensure your party runs as planned.
Note: You will have to pay extra if you need a generator to run the mechanical bull.
Well-Trained Operators
Our mechanical bull is strictly operated by an in-house operator who is well-trained to ensure the safety of your guests at all times. Per our policy, all mechanical bull rentals will include an operator to help set up and ensure proper usage.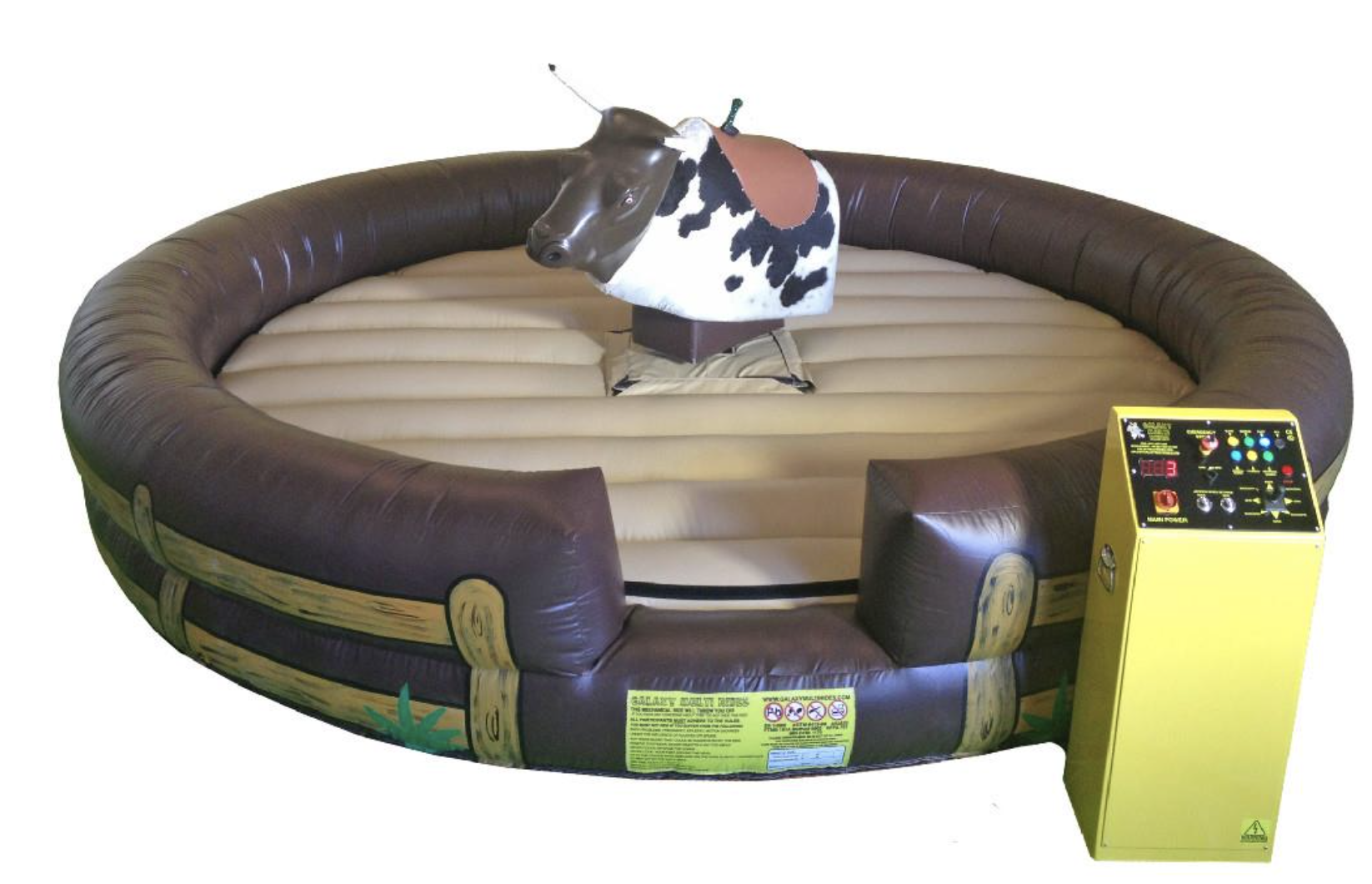 Bring the Cowboy/Cowgirl Experience to Your Maryland Party!!!
Make your party a hit by opting for our mechanical bull rental in Maryland, guaranteed to be a central attraction in any event. Call us today to reserve this item and offer your guests the best entertainment.
We rent the best and safest event equipment in Maryland, Virgina and Washington DC
Requirements and Rules:
1 rider at a time.
Min. weight is 40lbs and max is 250lbs per rider. We hold the discretion on this, as we don't want anyone injured.
Price includes the Bull and attendant for 3 hours. However, we do offer additional hours. Each additional hour is $275. Includes 1 Attendant.
Requires 2 power outlets on separate circuits. If power is NOT available, please let us know so Generators for power can be added to your invoice.
Mechanical bull features
Sofolex Soft Foam Safety Head
Unique Automatic Stop Sensor
Six pre-set Automatic competition levels
Best time of the day
If you really want to turn the heat up on your next event pair this with our 77 ft Obstacle course, 130ft mega obstacle run
Take a look at our party rental options Bounce houses, Combo units, Wet or Dry Slides, Dunk tanks, Obstacle Courses, Carnival Games, Mini Golf, Mechanical Bull, LED games, tents, tables and chairs for even more fun!