Dunk Tank (500 gallons)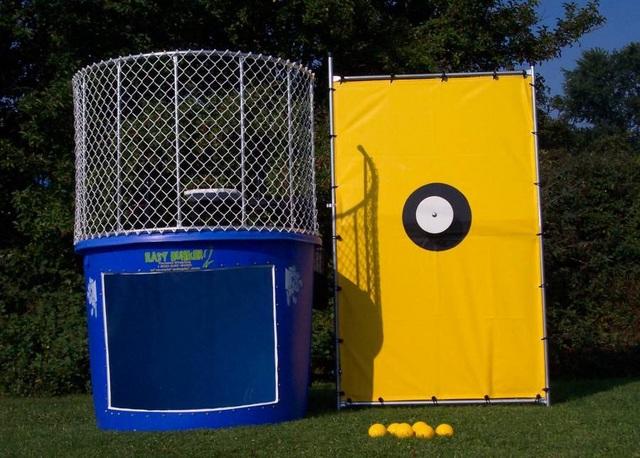 Description
DUNK TANK FOR RENT
If you are looking for some classic fun at your next School Fair, Carnival, Birthday Party, or Festival, look no further. Kids and adults will eagerly line up to dunk friends, family, teachers, principals and bosses. Add one to your next School Carnival or Company Party and we assure you that it will be a hit!
Dunk Tank Rental FAQ's
How long does it take to fill a dunk tank?
It usually takes about 1 hour to an 1.5 hours to fill a dunk tank. If you have really great water pressure at your party location it may take less time.
Can FIESTA TIME & AMUSEMENTS LLC. bring water for the dunk tank?
No, we cannot bring water with us. The tank is 500 gallons, which is a lot of weight!
Is your dunk tank made for kids and adults?
Yes, our dunk tanks are commercial-grade 500 gallon dunk tanks which are great for kids and adults
Do all your dunk tanks have windows on them?
Yes, there is no purpose to a dunk tank if it does not have a window.
Can we set up the dunk tank inside?
No, we do not set up dunk tanks inside. The water needs to be drained at the end of each event, so we do not want to flood an indoor venue with water.
Can the dunk tank be set up in our backyard?
Yes, as long as you have at least an 8' side gate AND an 8' wide side yard to get through. No, we cannot lift the dunk tank over a fence.
Are your dunk tanks in good condition?
Yes, our dunk tanks are stored inside day and night so they are kept looking in great condition. We bought them new and keep them looking that way.Do I need to provide a hose to fill the dunk tank?Yes, the customer is responsible for providing a garden hose that is long enough to reach the intended set up area. The customer must provide the hose and water source, no exceptions.
If you really want to turn the heat up on your next event pair this with our 77 ft Obstacle course, 130ft mega obstacle run
Take a look at our party rental options Bounce houses, Combo units, Wet or Dry Slides, Dunk tanks, Obstacle Courses, Carnival Games, Mini Golf, Mechanical Bull, LED games, tents, tables and chairs for even more fun!
There are literally TONS of reasons to rent from Fiesta Time & Amusements, LLC. So what are you waiting for? Head on over to our
home page
and start the ordering process now!